En-till-en, skräddarsydd coaching klarsikt
Skräddarsydd klarsikts-coaching för den som önskar få relationer att gå lättare, prestera större värden med mindre ansträngning i ett samtidigt klart ökat välmående.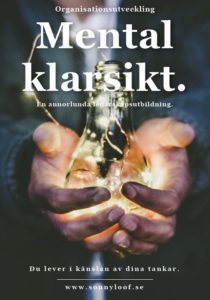 Detta är inte coachning i traditionell mening. Detta handlar om insiktsfulla konversationer som har potential att omvandla varje område i ditt liv.
Områden som vävs naturligt in i dialogen:
Självledarskapet.
Hantering av din tid.
Designen av vårt MIND
Detta är ett individanpassat samarbete där vi träffas kontinuerligt ansikte mot ansikte, via telefon eller via nätet. Jag föreslår ibland material du kan läsa eller videor du kan se som en del av utvecklingen.
Några av de fördelar du kommer att uppleva över tiden är:
du får till klart större resultat med mindre ansträngning.

mindre orolig och stressad.

mer glädje och frihet i ditt liv.

större självförtroende och genomslagskraft.

lättare till beslut.

större lätthet och närvaro i dina relationer.
Tack Sonny för att du hjälpte mig att se livet annorlunda. Känner sådan lättnad och sådan barnslig glädje.
I would first say: THANK YOU Sonny for sharing your tremendous knowledge how about our mind is designed. Sinced Sonny teached me the 3P (three principles) I dont need any methods, techniques, whatever!
When you get it you start to be consciousness about all the amazing resources you have inside you, the game changes totaly over a milli second! Remember; you just one thougth away from thriving in a whole new way and Sonny Coaching you through the start of your Journey. 10/10
 here you go, buddy!
Stort tack för att du hjälpte mig till att se livet ur en annan synvinkel. Du har hjälpt mig ta mig an uppgifter jag skjutit upp i flera år, se igenom mentala blockeringar och begränsningar jag själv skapat.